Perhaps we're biased, but we love that our insurance agency is located in West Chester, PA.  Just an hour outside of Philadelphia, West Chester manages to have both an urban and a small town feel.  It boasts beautiful historic homes and impressive, modern loft buildings.  Main street is perfectly walkable and parking is readily available.  And the mix of boutiques and unique restaurants is unmatched in the area.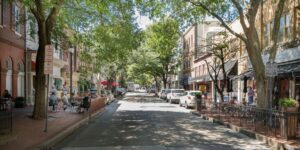 If you've never visited West Chester, Friday October 5th may be the perfect night to give it a try.  On this night, three very special events converge to make this the place to be.  And (bonus!) metered street parking is FREE starting at 5 p.m.!  If you're not lucky enough to grab one of these free spots, garage parking is available for a nominal fee.
First Friday West Chester
The first Friday of every month, shops and boutiques in and around main street (Gay St) stay open late.   Many offer complimentary refreshments and special deals only available on First Friday.  Each store does something a bit different so be sure to visit their individual websites and social media pages listed in the West Chester Retail Directory.
West Chester Gallery Walk
Twice a year, the Greater West Chester Chamber of Commerce organizes a Gallery Walk.  This perennial event happens in the spring and the fall when West Chester's beautiful main street is perfect for a stroll.  The Autumn West Chester Gallery Walk takes place on Friday, October 5th from 5:00 – 9:00 p.m.
The Gallery Walk features local, national and international artists, including several one-night-only exhibits.  Styles range from traditional to ultra modern.  Mediums represented include watercolor, acrylic, oil, sculpture, photography, jewelry, ceramics, textiles, and more.
As a business located in downtown West Chester, we always jump at the opportunity to sponsor this important and enjoyable event.  It has a distinct creative vibe and a friendly small town feel.
If you do attend, be sure to stop by the table we'll have set along Gay Street.  We'll have helpful event brochures/maps available and we'll enter you in our Gallery Walk wine giveaway if you stop by.  Mention this article and we'll make sure you get two entries!
West Chester Vintage Market
If you love searching for unique, antique, vintage, and up-cycled treasures, this is a can't miss.  The West Chester Vintage Market actually takes place IN the Chestnut Street parking garage from 4:00 – 8:00 p.m.  A wide variety of vendors will be selling home goods, accessories, collectibles, re-purposed and architectural salvage, vintage jewelry, clothing and original artwork.  Food vendors will be on site and a jazz duo will set the mood.
Fantastic Food
With so much going on, you'll likely end up staying a few hours, so make sure you consider grabbing a bite to eat while you're in town.  There are a variety of restaurants that span the culinary spectrum.  Whether you want an affordable sandwich on the run or a multi-course indulgence with a nice bottle of wine, West Chester has you covered.  Just be sure to make reservations where possible because things will book up quickly.
So, have we convinced you to pay a visit? We hope so!  And we trust you'll come to love this small, big town as much as we do!