Effective October 9, 2018 Element Risk Management will be offering Auto-Owners Insurance to its clients in the state of Virginia. Element Risk pursued this insurance partnership as part of an ongoing effort to provide its customers with a wide variety of choices when it comes to their home, auto, life, and business insurance.
What Does This Mean For Customers?
Independent insurances agencies, like Element Risk, are unique because they offer customers access to many insurance carriers.  More carriers equals more choices.  And more choices means the ability to find the right blend of price and coverage.
With Auto-Owners Insurance in its portfolio, Element Risk now represents over 30 carriers.  This makes it one of the strongest and fastest growing independent agencies in the area.
About Auto-Owners
Headquartered in Lansing, MI, Auto-Owners has been in the insurance industry since 1916.  It is among the largest carriers in the nation, providing insurance to almost 3 million customers.  The company boasts an A++ rating from A.M. Best, is a Fortune 500 company and was voted a Great Place to Work in 2016.
While the name might suggest otherwise, Auto-Owners Insurance provides a variety of insurance products.
In addition to auto insurance, they also offer homeowners insurance and life insurance.  The company also has an expertise in writing business insurance for everything from small local businesses to large national operations.  You can find a complete list of the industries they specialize in on their website.
Above and Beyond
Not only does Auto-Owners offer fantastic coverage and customer service, they also offer the latest and greatest in personal account management.  Customers can pay bills, view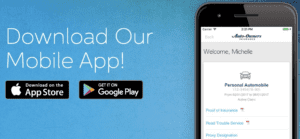 documents, file claims and track the status of existing claims 24/7 online.  Better yet, the company has recently developed an app for iPhone and Android to give its customers all the same functionality on-the-go.
Always on the cutting edge, Auto-Owners Insurance has also developed the TrueRide app to help customers lower their auto insurance premiums.  Customers simply download the app and information about their driving is automatically monitored and recorded every time they drive.  Auto-Owners gives a discount just for participating and the possibility to earn even better discounts for safe driving.
Get a Quote Today
Element Risk Management is honored to be offering coverage through Auto-Owners Insurance.  Use the link below to contact customer service for a free auto, homeowners, life or business insurance quote.