With all of our Element Risk team members now set up in their individual home offices, we are committed to moving forward with a positive mindset and a vision for supporting the communities where we work.
Everybody Wins
Last week a few members of our team got together to figure out how we can encourage each other and support other local businesses.  The result was the creation of the Element Risk Restaurant Outreach Project.  This program has the potential to benefit just about everyone in the communities where we have regional offices.  Here's how it works.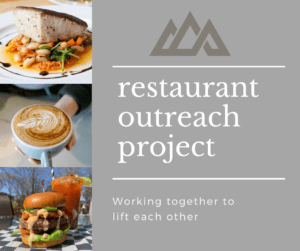 Beginning Wednesday, March 25th, Element Risk will donate $20 to a local restaurant for every personal or business insurance policy that we quote.  We have included a list of the establishments we have chosen to support below.  Each one operates in a community where we also have a local Element Risk office.
In a best case scenario, this ends up being a triple win for the community.  First and foremost, local restaurant owners get some much needed financial assistance.  Second, our Element Risk team members get an opportunity to write new business and earn extra commission at a time when their families need it most.  And finally, local residents who allow us to quote their personal or business insurance get an opportunity to potentially save money on their premiums which keeps a little extra cash in everyone's backyard.
The bottom line is that the big companies will survive the current downturn, but those who work right in your local community need you now more than ever, so please consider getting a quote from your local Element Risk office. To be clear, all that's required to help a restaurant out is to receive a quote.  If you ultimately decide to stay with your current carrier, we will still donate $20 on your behalf.
How Can I Help?
The process is simple.  Pull out a copy of your current insurance policy (or policies) and fill out this FORM on our website.  An Element Risk team member will reach out to get some additional details, including which restaurant you would like to support.  You can also call your local Element Risk office directly. The whole process only takes about 30 minutes and gives you the satisfaction of knowing that you did a great thing for your community when it was most needed.  Let's work together to lift each other!
FAQ's
Do I need to meet in person to sign any documents?
No. We use DocuSign so everything can be completed from your home.
I'm in the middle of my policy period, can I switch mid-way?
Absolutely!  There is no need to wait for the end of your policy period to switch to new agent.  If you have already paid your premiums for the year, the old carrier will issue a pro-rated refund.
When will the restaurants receive aid?
Barring any additional unforeseen government restrictions, it is our plan to tally the policies quoted and send checks out on April 3rd and again on April 17th.  After that, we'll see where we're at and extend the program if needed.
What restaurants can I choose from?
You may chose any of the following, though it is our hope that you would chose the restaurant in your community.  Here is the list:
Roots Cafe – West Chester, PA
The Market Street Grill – West Chester, PA
Backyard Beans – Lansdale, PA
Black Dog Cafe – Hollidaysburg, PA
Box Office Brewery – Strasburg, VA
Woodstock Cafe – Woodstock, VA
PaveMint Smokin' Taphouse – Front Royal, VA
Gobbler Grill – Broadway, VA